Posted by:

andrew
Mt Adams ski descent TR -
07/20/05
08:12 PM
I had a few days off work, so I decided to go do some skiing in the Cascades. Couldn't find a partner on such short notice, so a non-crevassed outing like the South Climb on Mt Adams was perfect.
I drove from Salt Lake to the trailhead on Sunday - 750 miles or so. The first mile was a bit rough while I walked the kinks out, but then I enjoyed the rest of my evening walk up to a shelf 900' or so below the lunch counter. It was a beautiful cloudless night, and I had a wonderful evening watching the sun set over Mt St Helens and Mt Hood.
In the morning, I started skinning right out of my campsite. I was pretty stoked looking up at the ski run ahead of me:
I managed to skin to within a few hundred feet of the false summit where it steepened up quite a bit. Another hour of booting and I was on the true summit. Not a cloud in the sky, and Rainier sure looks pretty behind me: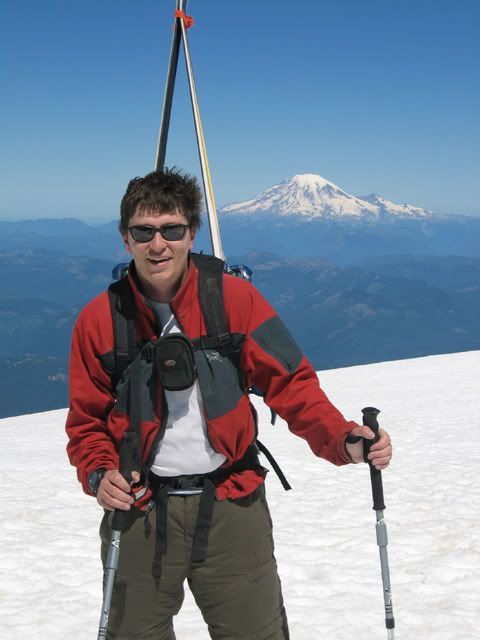 I rested for a half hour or so, and then clicked into my bindings. I hadn't skiied since April, so the first few turns on icy lightly suncupped snow felt hard and wierd. I skiied pretty slowly down to the false summit and stopped to rest my burning legs there. The skiing got much better below the falsie - started out as corn on the steeper parts at the top and then deteriorated to slush. The snow was very even and made for wonderful turns, but I was so cooked that I could only manager 10 turns before stopping to gasp. Still, I had a wonderful time and the 4000' of drop from the summit passed way too quickly.
No photos of the skiing unfortunately - I was by myself. You can take my word for it that it was wonderful. Hiking out the last couple of hot dusty miles with skis on the pack was not so wonderful, but even that didn't seem so miserable when I thought back to just how wonderful skiing a big Cascades volcano is. I'll be back next year a little earlier in the season, and definitely in a bit better shape!