Posted by: TerrieM
Anyone Need Some Swanky Van Seats? -
11/01/10
06:08 PM
So - anybody interested in some swanky van seats? These are in the van I bought for my road trip, and they must go in order for me to put in a platform and storage. The dude who owned the van redid these less than a year ago, and to have them end up as landfill is just not acceptable. But I need to get to work on the inside, and need to rehome these things.
They are velour! Dark Blue on the backs, and cream with a tan herringbone pattern on the fronts. No stains, no tears, really good shape.
The back bench seat folds flat and also has a matching blue carpet-covered wooden platform with cushion that makes for an extension when the bed is flat.
The captains chairs recline and swivel 360.
All the seats are bolted into the floor. I don't know for sure but think they would go in many vans, not just the type they came from(1988 GMC Vandura).
Here are some pics:
All Seats Upright
Back Bench Folded Open for Bed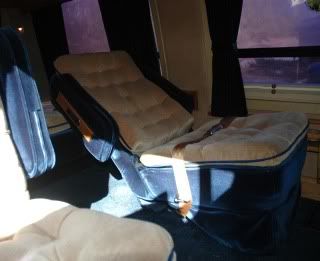 ]
Captain's Chairs Reclined - They also swivel 360 degrees
So - SOS! Maybe you have a shack somewhere and want to swank up the porch real nice... Or an old van with the seats looking a little peaked... Or even to harvest the fabric. Or something!!!
I have them listed on Craigslist for $250 for all. But the truth is - I just don't want them to get thrown away. SOMEONE must have a use for them! I would take whatever someone would offer, and if they could keep in mind I am making this trip on a less-than shoestring budget, I'd be grateful.
Send me a note through here, or call at (917) 270 - 9574. I need to get them out before this Friday so we can begin putting in the storage.