Posted by: cfrac
Wallface: Pay As You Go! Part 1 -
09/02/10
10:15 PM
So in an effort to bring some climbing back to the climbing forum I am posting this Trip Report in the Climbing section. (I hope the webmaster feels free to move this post to "Politics, Theology, and other Contentious Issues" or any other forum that seems more appropriate.
Onward... So, I love Wallface and have been looking at the cracks and corner systems on the far right side of center headwall for some time. Pictures and dreams don't always match up with reality on these types of adventures but this is a story where that was really the case!
It's not easy to find partners who want to drive North, hike several miles to scratch up some obscure hunk of rock that may end up being nothing more than a vertical garden with low chance of success. But there's always someone who can be talked into such abject silliness. Ranger Rob did not need encouragement, he was psyched. So never having climbed together we figured on getting out for a few days of gunks climbing to get to know one another and and our respective styles, belay calls, and eccentricities. All those little details that turn into a big deal when the rock gets crumbly and a storm moves in. We seemed pretty well suited for each other and got some overlapping free days lined up.
We decided on an evening approach with a bivi and then a one day push and hike out the following day. I had my first day of teaching the following morning so it kind of didn't give us much wiggle room. The forecast looked good but temps seemed to be climbing every day even for the Adirondacks.
The hike in was gross, the trail was in good shape but it was humid and in the 70's even at 7pm! We got to sleep pretty early and got the hike started the next morning around 6:30am.
It was warm even then and we knew 3 liters of water a piece was going to be pushing it.
The approach was straight forward and we were ahead of schedule arriving at the Weissner Depression before 8am with a bit of wading through the veg.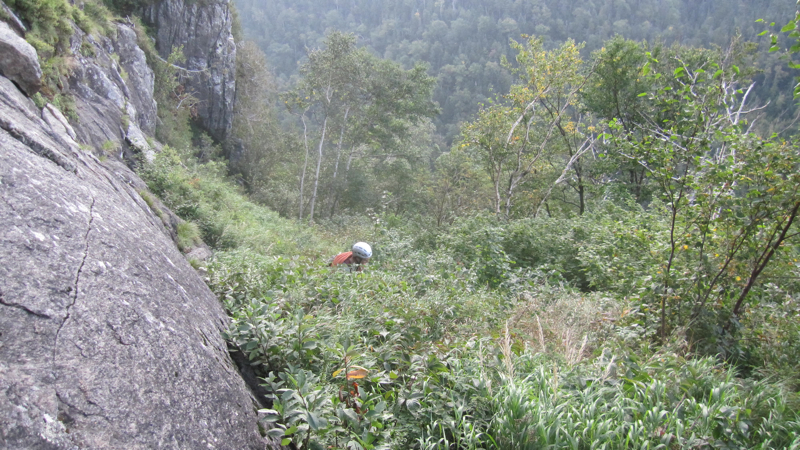 We roped up for the 4th class approach which was probably not necessary but I had a friend many years ago slide off this same section in Winter so we decided to play it safe.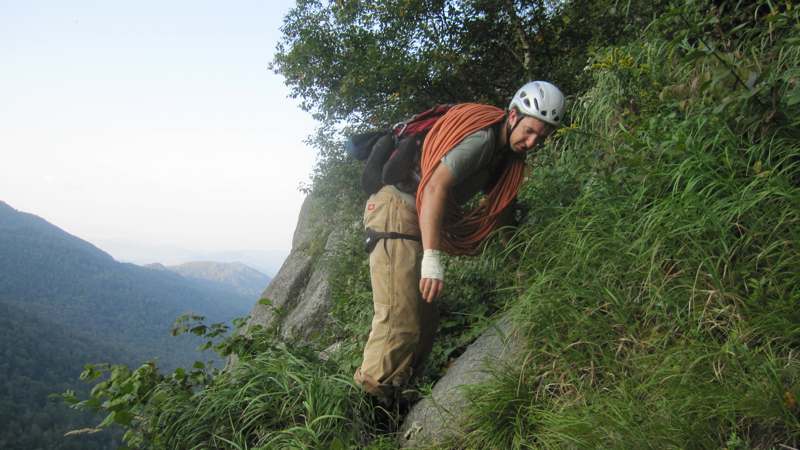 We arrived at the large terrace below the start to the Free Ride Shield pitches. The line I had proposed looked climbable but didn't look as though the protection would be abundant by any means.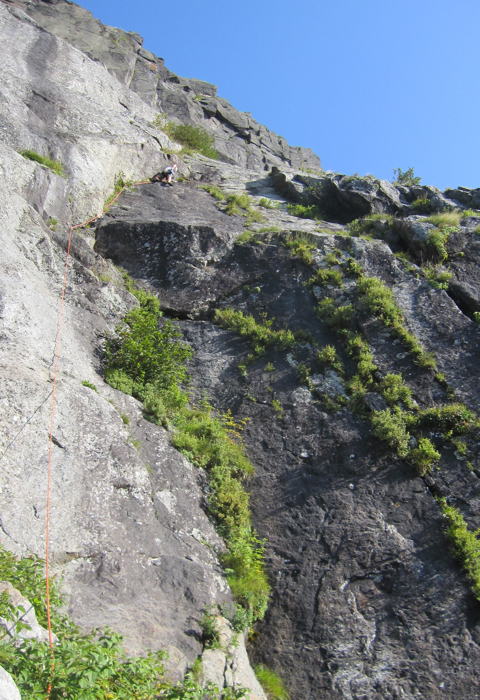 This was a long pitch with 5.8 climbing for over 40 feet before the first gear at which point I nested 3 pieces before launching into a nice arching crack system. Rob was going on about these Peregrines attacking a Red Tail Hawk but I didn't care, I had the nut tool out scratching away at the corner looking for pro and handholds. Every 20 feet I was chucking down some loose flake or clump of something. The higher I got the more this became an issue as the rocks were ricocheting off of the adjacent wall and starting to dangerously close to Rob. I at least knew he wouldn't be falling asleep as I slowly inched my way up.
More runout climbing in the 5.9 range eventually led to a tree island and a good belay. It was now hot in the Sun, WTF it was almost Sept on Wallface, at the same time last year I was shivering in a dri-clime jacket & hat!
Rob cruised up the pitch and took off from the belay for an easy pitch which got us to the base of the final headwall. There really weren't as many options as appeared in my photos but we were convinced at least one system would get us to the top.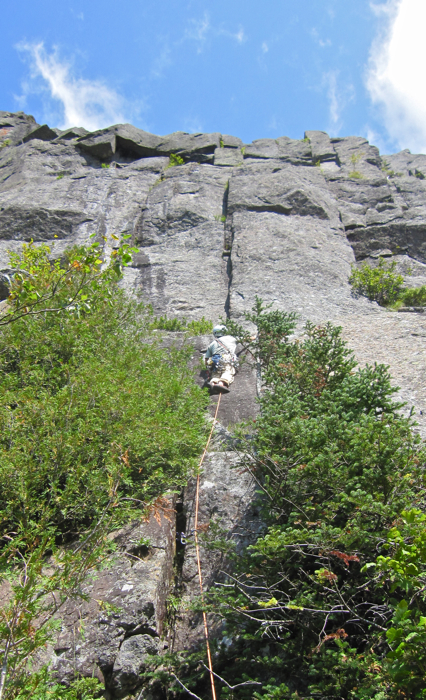 Rob took off getting into hard climbing within 30 feet. The pro was good but the climbing was steeper than it looked from the belay. He pushed the rope past at least 2 5.10 moves until deciding to come back to the belay.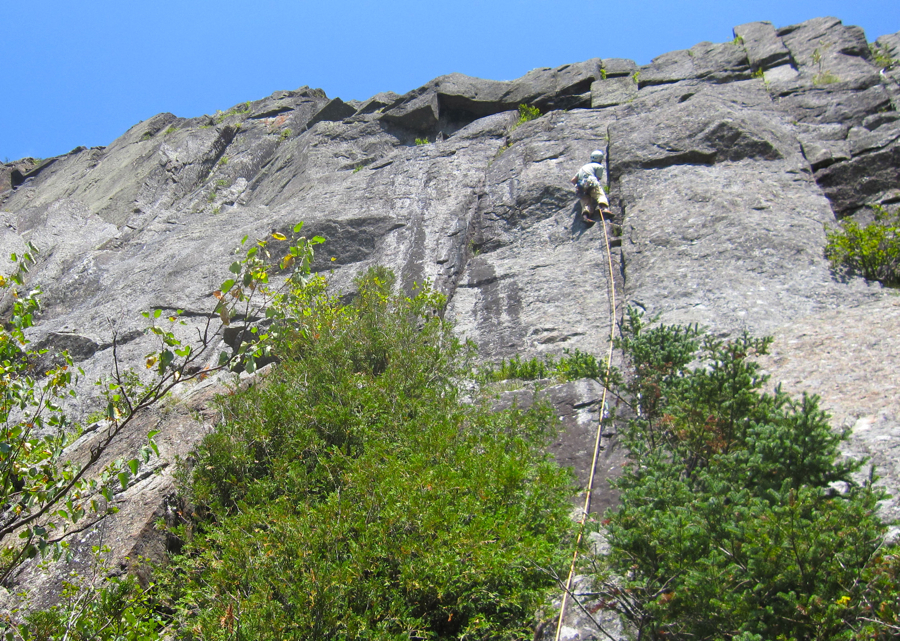 We pulled the rope and I went through what was truly fantastic climbing. Off center, lay backing and stemming moves led to even more 5.10 climbing. This pitch was high quality! The rock was good and so was the pro but the sustained climbing didn't allow much time for thought.
An awkward move led to a decent rest and a chance to assess where this route was going.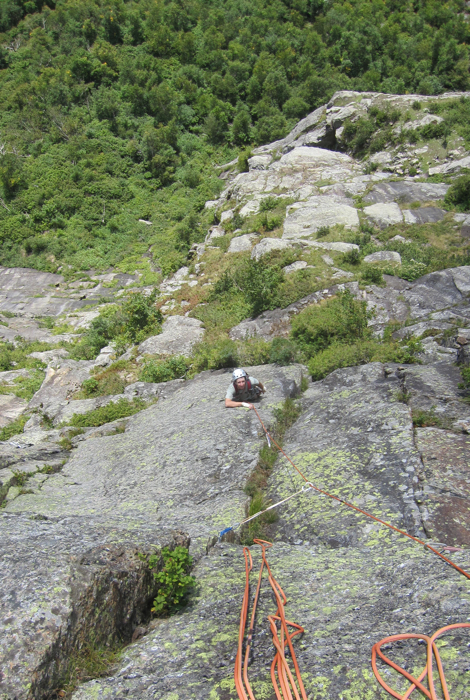 END of PART I